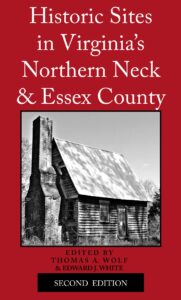 Historic Sites in Virginia's Northern Neck & Essex County, Second Edition
The 487 historic sites described in this Guide range from grand plantations to the modest early homes of middling planters, to early churches, schools and courthouses. Most of these sites still exist, but some "lost" sites are also included because of their historic significance, and as reminders of the continuing need for active preservation efforts. The book contains photos of the buildings together with three-dozen maps showing the location of these historic sites. The general cutoff date for inclusion was the Civil War, but the Guide also contains descriptions of various later sites as well, including many early African American schools and churches, and other important sites such as those involving the steamboat and fishing industries.
This edition contains updates, corrections, and forty-two additions to the previous highly successful Guide for those who have an interest in the rich history of the Northern Neck region of Virginia and its historic sites. This six-county Tidewater region includes the birthplaces of George Washington, James Madison, James Monroe, and Robert E. Lee. The book includes a brief history of the region beginning with the exploratory voyages by Capt. John Smith. The second edition removed a handful of non-conforming entries but added 42 newly-discovered sites.
You can order this new edition from Amazon and find it at local gift shops – like the Lancaster VA Historical Society and Westmoreland County Museum.
Newsletters
Our periodic newsletter Post and Beam not only contains useful information about about past and upcoming events and workshops, but it also contains interesting special articles on relevant topics. You can sign up by clicking on THIS LINK and  you can read the latest issue HERE!